Thanks to the Global Shelter Cluster Working Group on "Construction Good Practice Standards" for inclduing a reference to IHIP templates on section D4 Contract documentation!
What is the Goal of the Construction Good Practice Standards?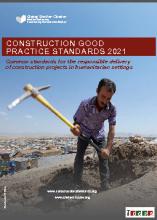 The Construction Good Practice Standards (CGPS) sets out common standards for the responsible delivery of construction projects in humanitarian settings. As such, it represents the action across all sectors to be accountable in ensuring the safety, timeliness and quality of the construction projects for which the agencies are responsible.
http://constructionstandards.org/
CHECK page 29 about Contract Documentation:

D4 – CONTRACT DOCUMENTATION
Construction contracts are complete, construction specific, legal documents that capture equitable terms and conditions between signing parties.

Guidance Notes:
Contracts should be proven standard formats (or adaptations thereof) written specifically for the purpose of construction and include clauses that describe all the key contract management processes. Whichever contract is used, contracts terms and contents need to be updated for each project. Since contractors often have low contractual awareness it is important that the main terms are explained in the pre-tender clarification meeting (see D1 commentary).
Check local laws and regulations to be sure that the chosen contract format and content will be valid and enforceable in the particular context. International bodies such as FIDIC/NEC/JCT or the World Bank provide internationally
recognised contract templates for small construction projects FIDIC Green Book (in development) IHIP Contract Template.
FIDIC Green Book: https://fidic.org/books/short-form-contract-1st-ed-1999-green-book
IHIP: https://www.ihip.earth/