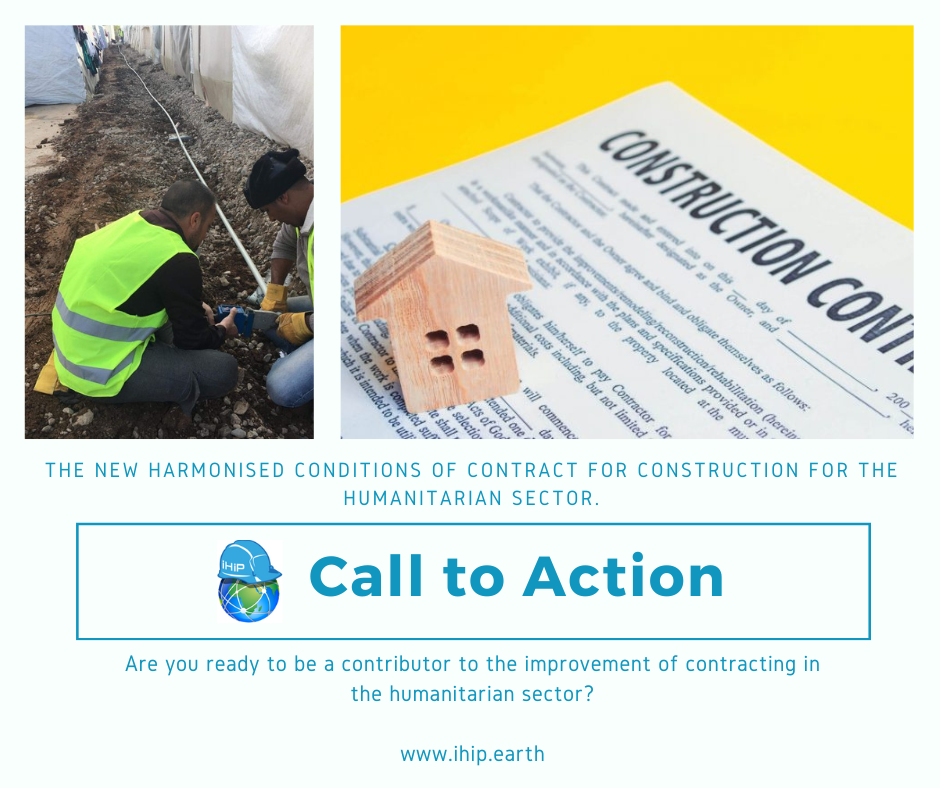 Be an early adopter of the improved contracts for construction in the humanitarian sector:
Be part of the community of practitioners that are testing the new harmonised conditions of particular application (COPA) of contract for construction for the humanitarian  sector.
In June 2023  the International Humanitarian Infrastructure Platform released the first edition of the harmonised COPA for humanitarian works.
Built on the best practices from the private sector and inputs collected from the Global Wash and Global Shelter Cluster members, IHIP consolidated all valuable contributions in a unique set of Conditions of Particular Application of contract. Those are specifically designed to derisk humanitarian projects, which attached to the FIDIC Short form of contract for construction (1st Edition) will allow your organization to take on larger project with mature contract management inbuilt mechanism.
=> See our guidance notes explaining how the COPA and FIDIC contract goes together for humanitarian projects.
If, in the coming 6 months you are planning to start a new humanitarian construction project for more than USD 50K, you can benefit from this available expertise and be an early adopter of the IHIP harmonised conditions of contract.
IHIP is looking forward to support you in using the IHIP Conditions of Particular Application of contract and collect any contributions from our partnership to improve the conditions of contract when relevant.
This free support will be provided by IHIP through the online discussion forum on knowledgepoint.org: IHIP Construction Contract for the humanitarian sector (knowledgepoint.org)
CALL TO ACTION
Are you ready to be a contributor to the improvement of contracting in the humanitarian sector?
Baseline Criteria: 
The organization must manage an construction project in the humanitarian context in the coming 6 months. The organization must have the ability to choose what conditions of contract will be signed between the parties ( Employer and Contractor). The organization should be ready to share the construction contract data with IHIP.
Deadline: 1st September 2023