Panelists:
Marc-André Bünzli, Head WASH of the Swiss Humanitarian Aid (TBC)
Ela Serdaroglu, Head of the Global SHELTER Cluster Coordination Team
Pavlos Tamvakis, Head of Project Management, Water and Habitat Unit at International Committee of the Red Cross – ICRC
Kitty (Villani) Cohen, International Consultant,previous Vice-Chair FIDIC IFI Committee
Member of the IHIP Contract Committee (TBC)
François Baillon, IHIP managing director
Discover the 2023 edition of Conditions Of Particular Application to FIDIC SHORT FORM of Contract for the HUMANITARIAN construction works.
As a result of a 3 year's collective effort, the 2023 harmonized Conditions Of Particular Application (COPA) to FIDIC SHORT FORM of Contract for Humanitarian Construction Works are now available to download for free from for the public on IHIP's website. Merging the improvements of the previous WASH and SHELTER particular conditions of contracts, those COPA for humanitarian works includes 40 improvements to the original FIDIC construction contract specially addressing the humanitarian context.
BETTER CONTRACT MANAGEMENT ( 19 improvements)
IMPROVED RISK ALLOCATION (11 improvements)
IMPROVED PROCUREMENT (10 Improvements)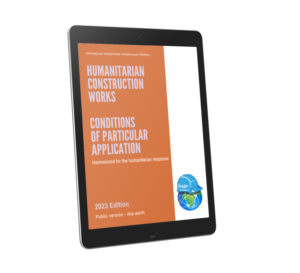 DOWNLOAD CONDITIONS OF PARTICULAR APPLICATION
Below is the list of updates addressed in those Conditions of Particular Application (COPA):